The Natural Opening Act of Spring
April 01, 2014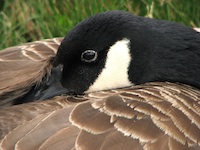 The Natural Opening Act of Spring


Spring marks the seasonal migration of the Canadian geese all across North America and Canada. The familiar and melodic honking from up in the sky reminds us that winter is drawing to a close, and it is time to shed the wool sweater to prepare for spring. Personally, this year, we are ready!
This past winter has been filled with dramatic storms and frigid temperatures all across North Americana and Canada. Our patience for the unrelenting chill and sometimes-bizarre weather patterns has worn thin. We look forward to the symphony of the Canadian geese as they make their journey towards warmer weather and longer sunlit days.
Watch the sky and see if you can spot the v-shaped flock of friends flying past you spreading the word to wake up from your winter slumber, plant your gardens and ready your spirit for the great outdoors. These tight clusters of birds soaring through the sky, honking their tune, remind me of my own family, travelling, laughing and enjoying being a part of the world outside. In fact, they have inspired me to begin planning our own summer migration/vacation.
Canadian geese are fascinating creatures. They are among the first to arrive north in the spring, and among the last to leave as winter returns. Few birds form a family quite as strong as they do, as they mate for life and both parents raise the young. They follow the same migratory pattern their entire lives, and the females lay their eggs in the same place every year.
Populations are generally increasing, partly because of habitat restoration, and partly because they adapt well to the presence of man by feeding on waste grain on farms, nesting in urban areas and grazing on lawns. The natural spring migration of the geese gives us a concrete clue that spring has sprung and we will soon be beckoned to venture outdoors.
Come enjoy the beginning of spring with us and listen to the geese mark their path, joining all of North Americana, Canada and parts of Mexico in one beautiful display of voice and sight!
Photo Courtesy of © Teekaygee | Dreamstime Stock Photos & Stock Free Images